SurveyMonkey is an easy to use tool that helped our project reach a lot of interested people. While the public meetings had 30-50 attendees, the online poll gathered over 1,000 responses in just 6 weeks!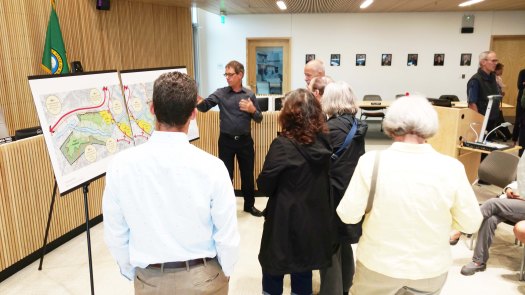 J.A. Brennan and our colleagues at MAKERS and Tetra Tech recently had the opportunity to work on a fantastic project with the City of Bothell. The Wayne Golf Course Open Space stretches across 86 acres and has been called "one of the last large, private undeveloped acreages anywhere in the central Puget Sound metropolitan area." The property features over half a mile of Sammamish River frontage, a historic apple orchard, and acres of woods in close proximity to Blyth Park and the Burke Gilman and Tolt River trails.
Our office helped the City of Bothell and partners King County, OneBothell, Forterra, and the State of Washington conduct a community visioning process for the Wayne Golf Course from April through June, 2016. Public outreach was a key component to the visioning process as we met with stakeholders, neighbors, and the greater community to ask, "What is your vision for this place?"
Setting up for Success
In addition to in-person public meetings, we collected feedback through a short online survey using SurveyMonkey.com. The five-question poll asked the public for feedback on potential program activities and services that could be developed at the Wayne Golf Course property. When the survey closed after 6 weeks, there were 1,067 responses. Links to the survey were promoted through OneBothell's Facebook page, Forterra's newsletter, the City of Bothell's Facebook page, and the City's Bothell Bridge newsletter mailed to every resident of Bothell each month. A graphic summary of the number of responses received each day shows spikes of activity that correspond with the online postings in May and the newsletter mailing in June.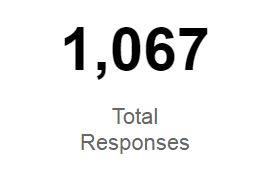 Analyzing Results
The survey introduction provided background information about the property ownership and funding strategy. The public was reminded that acquisition of the Wayne Golf Course is a unique opportunity for Bothell and the region for potential salmon recovery, open space preservation, site restoration, trails, and recreation. As you can see in the summary graphics, most survey respondents spend time in parks on a weekly basis.  While there, the most popular activities include: enjoying nature, spending time with family/friends, and simple relaxation.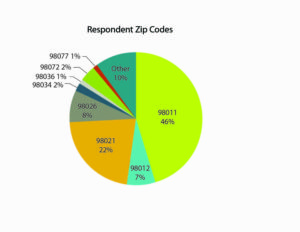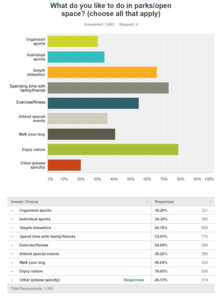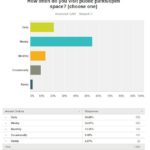 Lessons Learned
You can check out the vision plan on the City's website and consider utilizing an online survey with your next open space planning and design project. The survey was an easy way to expand the exposure of the project and solicit more diverse community input. We were able to create the survey in 5 hours including a draft and final survey. We shared the survey results in the public meeting to help voice some concerns that were not present at the public meeting. The depth of response is expected to help with grant proposal success.